Multiple rumors have suggested that the next-generation iPhone 15 models will adopt the Wi-Fi 6E standard that Apple has already introduced in the iPad Pro and MacBook Pro, and now a leaked document appears to confirm Apple's plans.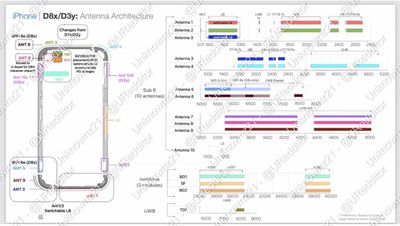 Sourced from researcher and Apple leaker Unknownz21 (@URedditor), the document features diagrams of the ‌iPhone 15‌'s antenna architecture. D8x refers to the ‌iPhone 15‌ Pro models, and the information indicates that the faster Wi-Fi 6E specification will be limited to the ‌iPhone 15‌ Pro and ‌iPhone 15‌ Pro Max.
The standard ‌iPhone 15‌ models, labeled as D3y, will continue to use Wi-Fi 6 rather than Wi-Fi 6E. For further reference, D7x refers to the iPhone 14 Pro and Pro Max, and D2y refers to the iPhone 14 and 14 Plus, with the document outlining antenna design changes between the ‌iPhone 14 Pro‌ and ‌iPhone 15‌ Pro. MacRumors has seen additional documentation indicating that Wi-Fi 6E will be a Pro only feature.
As of now, Wi-Fi 6E has already been added to some of Apple's product lineup, but it is limited to the latest ‌iPad Pro‌, Mac mini, and MacBook Pro models. Apple has not previously restricted new Wi-Fi standards to a Pro iPhone, but the ‌iPhone 15‌ Pro models will have several features that are not available in the ‌iPhone 15‌, and limiting it makes sense from a cost and availability perspective.
Wi-Fi 6E allows devices to connect to routers and modems that support the Wi-Fi 6E standard, but it is a newer technology and is not yet widespread. Wi-Fi 6E routers are readily available, but because they have only started launching over the past few years, many people and businesses have not yet upgraded. Wi-Fi 6E routers include the 6GHz band in addition to the 2.4 and 5GHz bands, and to use 6GHz, both a Wi-Fi 6E router and a Wi-Fi 6E device are required.
Compared to Wi-Fi 6, Wi-Fi 6E offers more bandwidth, providing faster connectivity speeds, lower latency, and increased capacity. Wi-Fi 6E provides 1.2GHz more spectrum in the 6GHz band, and it can support whole home gigabit coverage, multi-gigabit connectivity for venues, and it has the bandwidth for higher data streams like those used for AR and VR experiences.
Since Wi-Fi 6E requires both routers and devices to support the standard, it is largely an empty band at this time with little traffic, which means ‌iPhone 15‌ Pro models with Wi-Fi 6E will be able to connect to Wi-Fi 6E networks that don't have much competition in terms of traffic from other devices.
Unknownz21 has in the past leaked information on devices like the ‌iPhone 14‌, and back in 2020, he was able to source a copy of iOS 14 ahead of its launch, sharing details about the update. Unknownz21 told MacRumors that the diagram is «only the tip of the iceberg» and that additional leaks on the ‌iPhone 15‌ series, including full images, will be coming ahead of when the ‌iPhone 15‌ models are scheduled to move into the EVT (engineering validation test) stage in March.
Documents that he has obtained also confirm that the ‌iPhone 15‌ Pro models will feature faster 3nm A17 chips and solid-state volume and power buttons. The ‌iPhone 15‌ models will continue to use A16 chips, as previously rumored, and will not feature the redesigned volume buttons.